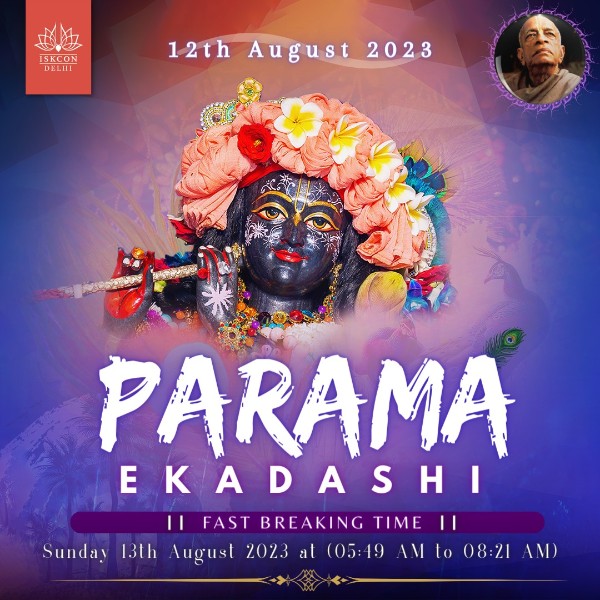 Parama Ekadashi 2023
Name: Parama Ekadashi 2023
Date:- 12 August 2023
Fast breaking time:- 13 August 2023, between 05:49 am to 08:21 am
Kindly avoid grains. Keep fast and Chant more and more rounds of Mahamantra 📿 for the pleasure of Krishna.😇 Happy Ekadashi🙏
According to Shri Bhagwan, Parama Ekadashi falls in the Krishna Paksha of Adhikamas, and it's one of the two Ekadashis this month. There are 26 Ekadashis in a year, including the two in Adhikamas – Padmini Ekadashi in Shukla Paksha and Parama Ekadashi in Krishna Paksha. Fasting on Parama Ekadashi destroys sins, brings worldly happiness, and promises salvation.
The prescribed observance includes fasting as per the law and worshipping Lord Vishnu with incense, lamps, offerings, and flowers. Shri Bhagwan also narrates a significant story related to this Ekadashi that took place among sages in the city of Kampilya.
In Kampilya city lived a virtuous Brahmin named Sumedha and his devoted wife. Despite poverty, the wife persuaded her husband not to seek fortune abroad. They met Kaundinya Rishi, who advised fasting on Parama Ekadashi to overcome poverty. The couple followed the sage's guidance, observing a five-day waterless fast called Pancharatri.
The fast's virtues included heavenly rewards for celibacy, horse or ghee donation, and charitable acts. Post-fast, they received blessings from Brahmaji. A prince granted them prosperity, alleviating their struggles. Ultimately, they attained spiritual fulfilment and departed for the divine realm of Sri Vishnu. Parama Ekadashi's observance with devotion and rituals promises sin dissolution, material well-being, and spiritual progress.