Pitra Paksha Daan
Feed the Sadhus on Auspicious Pitra Paksha
Feed the Sadhus
Sadhu Bhojdan implies "Donation to Sadhu." You can donate and support true saints living in the ISKCON Mandir. Saints spread love and become a carrier of the Lord's kindness.
Let's support the saviors of society.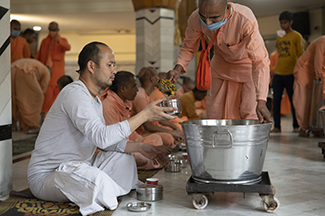 Roti, Daal, Chawal, and Multiple Vegies with 3-4 types Sweets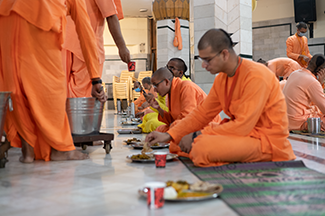 Paneer Meal + Special Sweets + Snacks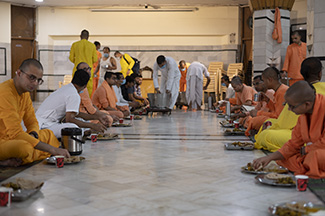 Normal Meal (Daal Chawal) + 1 Vegie
Looking after the health of Sadhus is essential to their well-being. If they aren't in good physical condition, they can't carry out religious duties properly. You can offer Sadhus with everything they need to stay healthy and perform at their best.
Donate any of your choice
Get Blessings
Success is an opportunity endowed by God to serve. Success implies service; if you do service, you will be rewarded with blessings, and blessings assure continued rewards in the form of 'success.'
Sadhu Bhojan Seva is an approach aiming towards the spirit of donation to extend a serving hand for the sadhus. A society where the needs of every individual are taken care, not only forge ahead towards holistic development but also builds a support system where everyone feels cared for and strengthened.
Saints are the carrier of the Lord's compassion and spread the message of god consciousness, principle-centered values, etc. Let us express gratitude towards them through Sadhu Bhojdan for our benevolent contributions.
Note:- Your Donation is to feed 251 Sadhu's for onetime.
More Donation Options to Feed the Needy
Do your part and contribute this to serve the Needy.
Help us to feed the Needy, do you part by donation.
Provide the Food to 101 Needy People. Support us.
You can help us to feed the hungry. Support us.
General Donation
Any No. of Meals ~ You want to Donate.
Donate 251 Meals
₹ 18,825 ~ Do your part and contribute this amount.
Donate 501 Meals
₹ 37,575 ~ Do your part and contribute this amount.
Donate 1,001 Meals
₹ 75,075 ~ Do your part and contribute this amount.
SCAN & PAY with any UPI App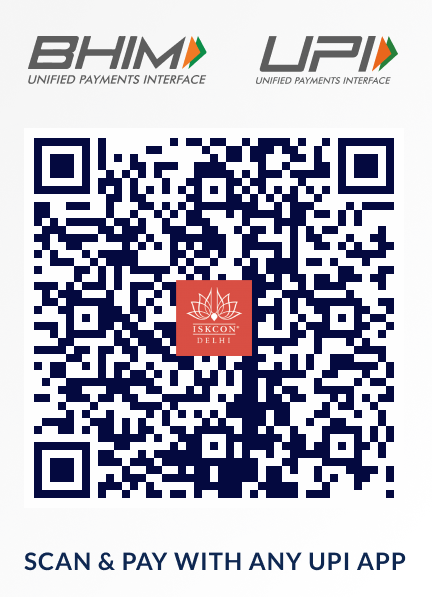 UPI ID:
rpy.iskconDelhiDonations@icici
Direct Bank NEFT/RTGS/IMPS
A/C NO.: 2223330044191637
NAME: ISKCON DELHI
IFSC: RATN0VAAPIS
Show your Love
ISKCON Delhi is giving you the opportunity to serve the saints. The more you give, the more you receive. And donating to sadhus opens the path to blessings and abundance. Donate profusely and adore the pleasure of giving. Donate for Sadhu Bhojan Now!!