7+ crore people have been fed so far during the crisis of COVID-19
Under Food for Needy initiative, we aimed to serve millions of needy people with nutritous meals daily. One of the world's largest vegetarian meal providing programs, we try to provide help wherever it's needed, such as worldwide emergencies, nursing homes, prison houses, and orphanages. Support us in continuation of this movement.
Our contribution so far has been during
Floods in Jammu & Kashmir, India (2014): The non-stop efforts of the devotees of ISKCON Delhi included cooking prasadam, which would last longer, and packing it daily for 10,000 people for two continuous weeks. The Indian Air Force would then ship the food daily to be served at the flood rehabilitation centers.
~You can come forward to contribute in this Movement~
All Donations paid within India are Tax Exempted under the 80G Section of Income Tax Department, Govt. of India.
AVAIL 80G BENEFITS ON THE DONATIONS MADE TO ISKCON AS PER INCOME TAX RULE
Tax Exemption Certificate Ref. No.: आ. नि. (छू.) मु. न./80-जी/1667/2007/2008-2009
Validity extended perpetually vide CBDT Circular No. 7/2010 dated 27/10/2010
You can claim it after the donation on Thank you page.
General Donation
₹ Amount of your choice ~ Serving for Dharma purifies your soul.
Donate 21 Meals
₹ 525 ~ Do your part and contribute this amount.
Donate 51 Meals
₹ 1,275 ~ Do your part and contribute this amount.
Donate 151 Meals
₹ 3,775 ~ Do your part and contribute this amount.
Donate 251 Meals
₹ 6,225 ~ Do your part and contribute this amount.
Donate 501 Meals
₹ 12,525 ~ Do your part and contribute this amount.
Donate 1,001 Meals
₹ 25,025 ~ Do your part and contribute this amount.
Donate 2,001 Meals
₹ 50,025 ~ It's your turn to participate in this karma.
Donate 3,001 Meals
₹ 75,025 ~ Do your part and contribute this amount.
Donate 5,001 Meals
₹ 1,25,025 ~ You can serve these meals to needy people.
SCAN & PAY with any UPI App
No Need to share the screenshot for this payment method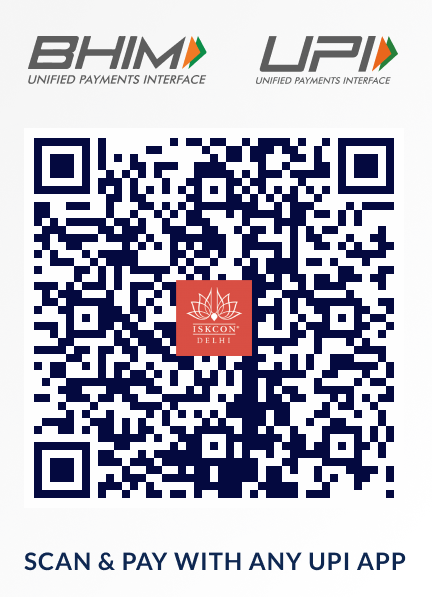 UPI ID:
rpy.iskconDelhiDonations@icici
Direct Bank NEFT/RTGS/IMPS
Note: If you are donating in direct bank account, then share the payment screenshot on WhatsApp by below button. (अगर आप सीधे बैंक खाते में दान कर रहे हैं तो स्क्रीनशॉट को नीचे दिये गये बटन द्वारा व्हाट्सएप पर शेयर करें)
A/C NO.: 347501000822
NAME: ISKCON DELHI
IFSC: ICIC0003475
Know more what we have done
Earthquake in Pakistan (2006): The base was set at ISKCON temple in Udhampur. Food provided relief for Life volunteers from several cities in neighboring India who worked carefully with the local military and police. Within the area affected severely by the earthquake, trucks and trucks loaded with drinking water, rice, bread, and blankets were made available to the needy. The volunteers made sure that food and drinking water was made available to the victims and the survivors of the devastating earthquake.
In 2005~
Hurricane Katrina in Gulf Coast, U.S. (2005): The team members were quick to the rescue operation after the hurricane hit the Gulf Coast areas the hardest. The Food for Life groups in Texas was preparing and serving 800 dinners consistently every day and continued with their assistance of distributing hot, fresh food to affected individuals and uprooted refugees months after the hurricane struck.
Tsunami in Southeast Asia (2004): Food for Life was fast to provide relief support and hot vegetarian meals to people on the same day of the disaster. It delivered 10,000 meals in Sri Lanka every day and ensured that soldiers provided medical care, clothing, and shelter for displaced kids.
Cyclone in Orissa,
India (1999): Food for Life had the opportunity to serve more than 1,000,000 vegetarian dinners, alongside water bottles, blankets, garments, and medical aid therapy to the crushed survivors.
War in Grozny, Chechnya (1995): The volunteers took a chance with their Life in aiding and serving 850,000 dishes of hot porridge, freshly prepared bread, and tea to the resident occupants since the start of the Russian counterinsurgency crusade on Dec. 11, 1994. The efforts of "Food for Life" Krishna devotees in Grozny were much-admired in a New York Times article which read as "…they have a reputation like the one Mother Teresa has in Calcutta: it's not hard finding someone to state they are saints. In a city full of lie stories, greed, and corruption, the Krishnas deliver the goods."