Krishna Janmashtami this year is celebrated on 07th September, 2023. Devotees of Lord Krishna celebrate this auspicious festival by keeping fast, night-sankirtans, holding bhakti events, etc. Sri Krishna's devotees celebrate this day to express their love for Lord Krishna.
Though Krishna Janmashtami is celebrated worldwide, It is chronicled with the most enthusiasm in the ISKCON temple. The appearance of Lord Krishna is significant. Krishna's Janam Leela is divine and sacred. The reason for the advent of the Supreme Lord is to end the cruelty of evil Kansa and give the pleasure to the devotees.
Lord Krishna appeared in the prison of Mathura at midnight on the eighth day of Krishna paksha to Mother Devaki and Vasudeva. That night was remarkable. During the manifestation of Lord Krishna, all the places were irradiated to portray the Advent of the Supreme Lord.
Prophecy of the "Downfall of Kansa"
It is believed that King Kansa made splendid arrangements for the marriage of his beloved sister Devaki. But at the same time, prophecy took place that the eighth son of Devaki will be the reason for the end of the dictatorial rule of Kansa and will be the reason for his ruination.
Why Kansa killed all the children of Devaki?
When Kansa came to know that Devaki's child will be the cause of Kansa's death, he forgot all the bonds and love for his sister, and in a rage, he held Devaki's hair and was going to kill her. Then Vasudeva advised the situation with his patience and wisdom to save the life of his wife, Devaki. He stopped Kansa wisely, saying that "why are you taking the stigma of killing a woman and that too your sister on your head. We will hand over our eighth son willingly to you."
After hearing this, the evil Kansa left the idea of killing his sister and decided to spare her life, imprisoned his sister and her husband, and waited for their eighth son's birth.
On observing the delay of Lord Krishna's descent (birth), representing all demigods Devarshi Narada said to Kansa that lord Krishna is very clever. So Lord Krishna doesn't need to take birth as their eighth son; He can appear anytime. And in this way, the evil Kansa brutally killed all seven children born to Devaki and Vasudeva.
The Appearance of Lord Krishna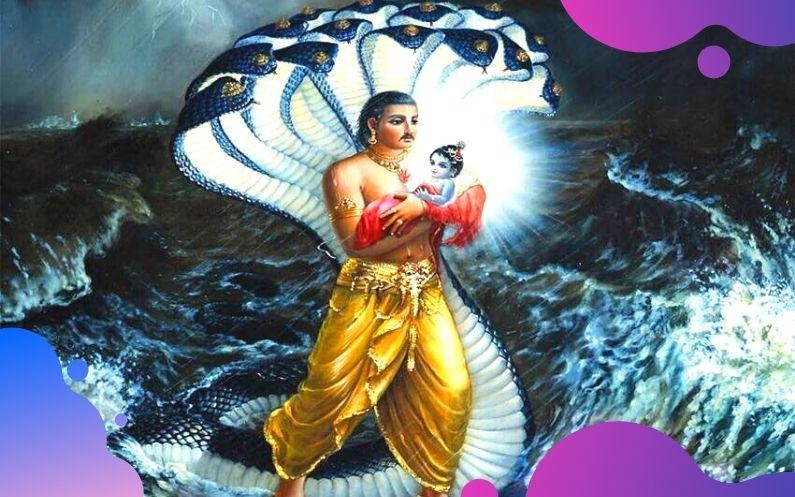 During the birth of the eighth child, the Lord appeared in chaturbhuj form and visited Devaki and Vasudeva. A beautiful divine child born as their son.
Surprisingly as soon as the divine child took birth, the shackles got unlocked and magically freed him, the iron door of their cell opened itself, and all the guards slept under a magic spell.
Vasudeva came out of the prison to rescue the newly born child and carried him across the Yamuna. Then, he gave the child to his closest friend Maharaj Nanda. Then, he came back to the cell with the baby girl born in Nanda's house.
Kansa Arrival to the Cell on Receiving the News of Eighth Child Birth
Immediately after that, Kansa was informed about the newly born child. He reached the cell to kill the newly born girl child. As he tried to kill the baby girl, the baby slipped from his hand and went towards the sky and proclaimed, "evil Kansa, the reason for your death has already taken birth."
Description of Lord Krishna's Birth According to Shastra
People say Lord never takes birth, but Lord Krishna took delivery from their mother's womb, so He cannot be Lord. But Lord Sri Krishna did not take delivery from Mother Devaki's womb like a normal baby where the mother has to bear labour pain.
As described in Shastras, He took birth in the chaturbhuj form and later adopted a child's form.

Srila Prabhupada, the Founder-Acharya of International Society for Krishna Consciousness classifies when sun sets and again rises. It is not considered as the sun took rebirth. The absence of the sun does not mean that it perished. It just hides from our sight. Still, going out of our site, it appears somewhere else. In the same way Supreme Lord is beyond life and death and appears in one place after finishing his pastimes in other place.

Generally, the following two shlokas of BHAGAVAD GITA are very known-

"yadā yadā hi dharmasya glānir bhavati bhārata
abhyutthānam adharmasya tadātmānaṁ sṛijāmyaham" (-Bg 4.7)

This means when adharma starts to prevail, and Dharma starts to perish. Lord Sri Krishna appears at his own will.

Now the question arises what the purpose of His self appearance is?
The purpose is-

"paritrāṇāya sādhūnāṁ vināśhāya cha duṣhkṛitām
dharma-sansthāpanārthāya sambhavāmi yuge yuge" (-Bg 4.8)

Supreme Lord constantly lives in His dham (divine abode), but when He descends to the material world, He is called Avatar. This is because He descends for the redemption of His devotees and to end evil.

Significance of Sri Krishna Avatar
There are many types of Avatars like Purusha Avatar, Gunavatar, Lilavatar, Shaktyavesh avatar, Manvantara avatar, and Yugavatar. All of these descents in this universe incarnate in order. But Lord Krishna is the Supreme Personality of Godhead and source of all the Avatars. He can destroy evil in any way.
He does not need to incarnate particularly. So Lord Krishna takes Avatar for the particular purpose of taking away the worries of his devotees who are curious to see his actual pastimes of Vrindavan.
Hence the real purpose of Krishna Avatar is to give pleasure to his pure devotees who are devoid of fruitive activities. It is not a fact that Supreme Lord descends only to the land of India. He can appear anywhere anytime. So on taking every Avatar, He speaks about the Dharma. But the purpose remains the same: to make people filled with religious feelings and to make them obedient to religious rules.
Sometimes He appears Himself, and sometimes He sends His authentic representative in the form of His son or a follower or appears Himself in disguise.
Lord Krishna appears in Brahma's one-day seventh Manu twenty-eighth Chaturyuga's end of Dwapara. That is why we are fortunate that we are born in that duration of Kaliyuga when it has been just 5249 years of His disappearance.
After that, Shri Chaitanya Mahaprabhu also appeared 500 years ago and made us familiar with Krishna bhakti (Harinam-Sankirtan). So, come, let's celebrate this Janmashtami for our beloved Lord Krishna's pleasure and try to bring His transcendental teachings into our life.
-> Fasting till midnight (only Ekadashi Prasadam to be taken)