It is said that when God created the material world, He created all beings, and at the same time, many kinds of sins also took birth. Out of those sins, a paap purusha was created. God saw that the souls were very easily inclined towards sin, and they were repeatedly sent to hellish worlds for punishment. God took mercy upon the living entities and expanded Ekadashi from his body. Living entities started observing fast on Ekadashi and were getting rid of sins. This agitated paap purusha, he went to the Lord and said, "You created me, but by the influence of Ekadashi, I am unable to do my duty." Lord replied, "If that is the case, I order you to enter in grains on every Ekadashi. This will save your existence."
That's why, if we observe fast on Ekadashi (Apara Ekadashi), then we would be saved from all the sins which we could get by consuming grains on Ekadashi. Ekadashi fast not only reduces our sins but also assists us in getting the devotion service and mercy of the lotus feet of the Lord, Shri Hari.
Once Yudhisthira asked Lord Krishna, "O Krishna! Please tell me, what is the name of Ekadashi, which occurs in the Krishna paksha of Jyestha month and its glories?"
Lord Krishna replied, "O King! This Ekadashi is popularly known by two names – Apara and Achala. As per Vedic injunctions, Ekadashi on the Krishna paksha of Jyestha month is termed as Apara Ekadashi because it bestows unlimited wealth. Those who observe fast on Apara Ekadashi, they will attain fame in the world, get rid of all sins committed due to brahma hatya, and blaspheme and also get freedom from ghostly species of life. By doing this fast, all the sins accumulated due to illicit sex life, giving false testimony, lying, reading or making false scriptures, becoming a false astrologer or becoming a false physician, etc., are all destroyed. The Kshatriya who runs away from the battlefield is certainly to hell, but by the influence of Apara Ekadashi, he will attain heaven."
"Devotees who accept knowledge from the spiritual master but blaspheme him will certainly go to hell, but by observing fast on Apara Ekadashi, they can also get freedom from such heinous sin. The results of taking bath in Pushkar in the month of Karthik or the results of pind daan on the holy banks of Gang; same results one gets by observing fast on Apara Ekadashi."
"This fast is like an axe which cuts the tree of sins, it is like fire which burns down all sins, it is like the Sun which destroys the darkness of sins, it is like a Lion who kills deer. That's why living entities should be careful enough not to commit sins and observe fast on Apara Ekadashi."
By fast observation on Apara Ekadashi and by the worship of Vishnu, one gets rid of all sins and attains the Vishnu Loka after leaving this material body. As per the popular story, there was a righteous king named Mahidwaja. His younger brother, Vajradwaja, was very cruel, unrighteous, and unfair. He was very envious of his elder brother. One-night Vajradwaja killed his elder brother while he was asleep and buried the body under a peepal tree in the woods. Because of unnatural death, Mahidwaja attained ghostly species of life. He used to live on the peepal tree and created several nuisances.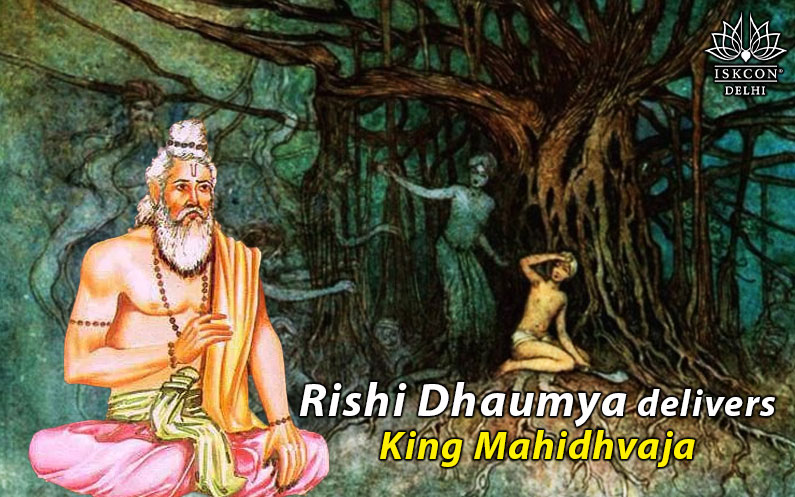 One day a great sage, Dhaumya, passed by that forest and he saw the ghost. With his mystic power, he could know the ghost's past life. He also understood the reason for such nuisances. He brought down the ghost from the peepal tree and instructed about parlok vidhya. Sages are always very kind by nature, and out of his kindness, he observed fast on Apara Ekadashi so that the ghost could be freed. He also donated all the piousness earned by him to the ghost. As a result of which, Mahidwaja got freedom from the ghostly species and attained a transcendental body. He went to the higher planetary system after boarding pushpak vimaan.
Let's not waste this great occasion of Apara Ekadashi, we all should observe fast to get rid of sins and attain the pure love of the Supreme Personality of Godhead, Shri Krishna.
Hare Krishna Hare Krishna Krishna Krishna Hare Hare |
Hare Ram Hare Ram Ram Ram Hare Hare ||
Your Smallest act of Charity can make a difference and bring smiles to Needy Faces.