One day, King Yudhisthira told to Krishna,  Hey Madhav please tell us about the Ekadashi of Chaitra mass of Krishna paksha. Lord Krishna stated the story of the Papamocani Ekadashi. After that Lord Krishna revealed the whole Pastime, that Once upon a time there was a king, named Mandhata, who asked about Papamocani  Ekadashi to sage Lomas. Then Lomas sage told the story to Mandhata king. He said.
A long time ago, Kubera, the treasurer of the gods, had a beautiful garden named "chaityaratha". Spring season used to prevail throughout the year in that garden, due to which the apsaras,  Gandharva and demigods keep roaming.
Sage Medhavi, a great devotee of Shiva, was also doing penances there. Many times Apsaras want to disturb his penances but they failed. An Apsara named Manjughosha decided to break the penance of the sage.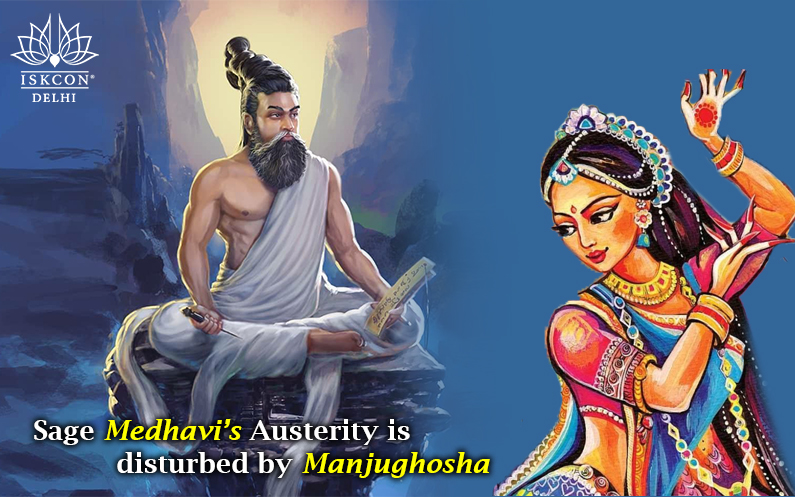 So she started living thereby making a hut near the sage's ashram. For many times she tried to disturb the sage with her beautiful dance and singing. Then one day, Kaamdev appeared and started attacking sage with his cupid arrows. This happened Because Lord Shiva after sacrificing his wife Sati, slit the throat of his father-in-law, Prajapati Daksha.  After that Shiva gave him the head of a goat. Then lord Shiva went on the austerity of sixty thousand years. At that time,  Lord Brahma sent Kaamdev to bring him out of Samadhi.
Then lord Shiva got angry and opened his third eye and destroyed Kaamdev. So at that time, kaamdev's physical body was demise but his spiritual body was saved. Therefore, when Kaamdev came to know that the medhavi Sage was a devotee of Shiva, he want to disturb his penance by entering into his body. At the same time, Manjughosha arrived. By entering Kaamdev, Sage Medhavi looked more attractive and sage dropped all his weapons and surrounded Manjughosha. And the fall down was started for sage because of the woman's Company. After a long period Manjughosha just realized that the sage had fully fallen, she asked for permission to return back to heaven. But Sage asked Manjunghosha to stay more and So she agreed to stay for 56 years, 9 months and 3 days. After that, she asked again to go back.
The sage again denied. At that time Manjughosha felt some fear, that if the sage got to know the reality of her cheating,  then sage will become angry and gave a curse to her. But in due course of time, Medhavi realised about all these cheatings. After that, he got angry and cursed Manjughosha to become a demon. Manjughosha fell at Sage's feet for forgiveness and started crying. After that sage told the remedy that when she fasts on Papamocani Ekadashi of Krishna paksha of Chaitra mass, then she will be able to get rid of his curse.
After saying all this, he went to his father sage Chyawan. After reaching, he told the whole story to him, and his father also subjected him that, you just do perform, Papamocani Ekadashi, then all your Sins will get eradicated.
In this way, a person, who observes this fast all his sins will be eradicated and he will get the Pure devotion of Lord Krishna.
Why is this Ekadashi fasting is special?
The speciality of Papamocani Ekadashi is that by observing this fast all the sins get eradicated. The Sin in a living being is like a mirror  Covered with dust and one cannot see his real face in it. Similarly, when the living being has the sins of many lives with him, then he too cannot know the reality of this world and his life remains trapped in a cycle of birth and death. That's why this Papamocani Ekadashi is so special.
By observing this fast, all the sins get destroyed and the person attains pure devotion unto the lotus feet of Supreme Personality of Godhead, Krishna.
What is the significance of Papamocani Ekadashi?
The importance of Papamocani Ekadashi is described in the Bhavishyotra Purana. It was first narrated to king Mendhata by sage Lomasa and after that Lord Krishna to king Yudhishthira. This Ekadashi destroys all the sins and also frees one from all sorts of anxiety and miserable conditions of life. This Ekadashi's observation is equal to donating one thousand cows. The main purpose of observing this Ekadashi fast is to control one's bodily demands and Spend more time chanting Krishna's names & Listening to Bhagavad Gita & Srimad Bhagavatam, which is full of Krishna's transcendental pastimes.
Your Smallest act of Charity can make a difference and bring smiles to Needy Faces.