Nirjala Ekadashi
Pandava Nirjala Ekadashi Donation
Nirjala Ekadashi is most auspicious ekadashi among all the Ekadashi.
Fasting on Nirjala Ekadashi is equivalent to all years Ekadashi and it is fruitful more than other Ekadashi's.
Nirjala Ekadashi Donation will bless you more and help ISKCON to feed the Needy Hungry People.
Your Donation amount will be used to Feed the plates of hungry with Food.
According to the Bhagavad Gita donation to the right place is more significant.
ISKCON SERVES MORE THAN 7CR MEALS ACROSS INDIA AND STILL SERVING FROM YOUR SUPPORT.
How your Donation is useful?
Your donation amount will be used to distribute the food to those people who can't afford even a single time meal.
Your donation help us to continue the Food Donation and other useful products for the Needy People.
EVEN YOU CAN SAVE TAX UNDER SECTION 80G. You can claim Tax Receipt while making ONLINE DONATION.
Donate iskcon to Feed the Needy
Nirjala Ekadashi Donation 2022
help to eradicate the hunger
Your Smallest act of Charity can make a difference and bring smiles to their faces.
Donate 1,000 Meals
₹ 20,000
Donate 2,500 Meals
₹ 50,000
Donate 5,000 Meals
₹ 1,00,000
Donate 10,000 Meals
₹ 2,00,000
Donate 25,000 Meals
₹ 5,00,000
SCAN & PAY with any UPI App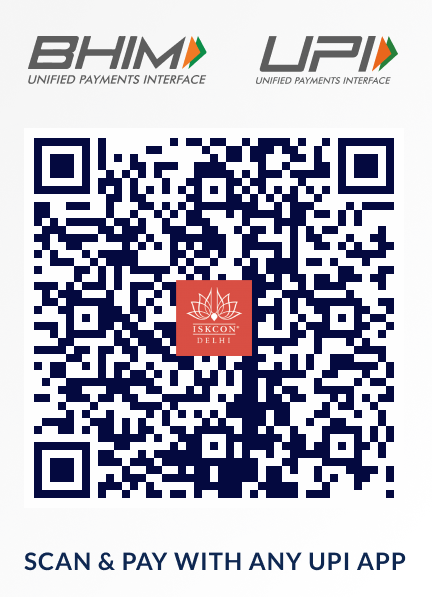 UPI ID:
rpy.iskconDelhiDonations@icici
Direct Bank NEFT/RTGS/IMPS
A/C NO.: 2223330044191637
NAME: ISKCON DELHI
IFSC: RATN0VAAPIS
How to do Nirjala Ekadashi Fasting in this Hot Summer?