Let's Celebrate the Birth of Unborn on the Official Website of ISKCON Delhi
Its 5249th Birth Anniversary of Lord Krishna
This Janmashtami Chant More Hare Krishna Maha-Mantra
Auspicious Event in Sri Sri Radha Parthasarathi, ISKCON Delhi, Temple
Mangala Aarati | Sringar Darshan | Flower Decoration | Kalash Abhishek | Kirtan
(Jhulan Darshan | 1008 Bhoga Offerings | Whole Day Prasadam Distribution
Jhanki | Digital Colourful Light | Aarati
Programme Timings
Bhajan & Kirtan
Mangala Aarati 4:30 am
Sringar Aarati 7.30 am
Rajbhoga Aarati 12:30 pm
Sandhya Aarati 6:30 pm
Maha-Abhishek 10.00 pm
Maha Aarati 12.30 midnight
Sri Krishna Janmashtami 2022 is being celebrated 2 days in ISKCON Delhi 18th & 19th of August
Offer Sewa to Sri Sri Radha Parthasarathi
Gold Plated Kalash Abhishek
₹ 51,000
Silver Plated Kalash Abhishek
₹ 35,000
Copper Kalash Abhishek
₹ 51,000
Offer 108 Maha Arati's on Sri Krishna Janmashtami
Silver Arati Thali
₹ 25,000
Brass Arati Thali
₹ 11,000
Makhan Mishri and Other Offerings to Lord Krishna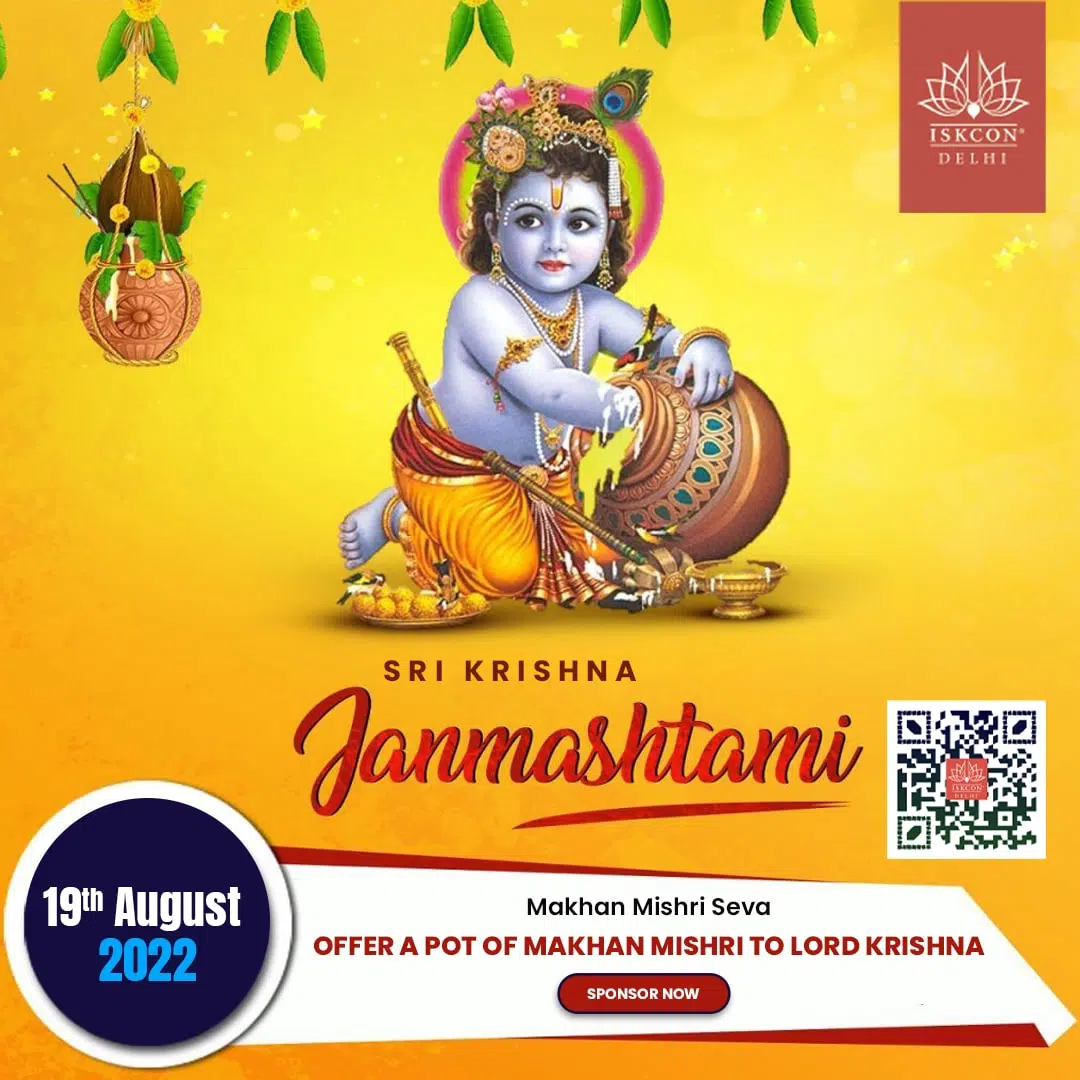 On this Auspicious Krishna
Janmashtami
Feed these Needy People
If you want to celebrate Krishna Janmashtami in a truly grand way, then you need to attend ISKCON Delhi's Grand Janmashtami Celebration in 2022!
This event will feature all the things that make this festival special, from melodious kirtan and ecstatic dance to spiritual discourse and special Kalash abhisheka.
Plus, you'll have the opportunity to offer devotional archana and participate in Maha Arati. And of course, the highlight of the event will be the midnight divine darshan. So don't miss out on this once-in-a-lifetime opportunity!
This Janmashtami Pledge to Feed the Hungry People
Anna Daan Seva on Krishna Janmashtami 2022
Donating food to the needy helps counter poverty and hunger and can improve harmony, friendliness, and trust among residents. Food Donation is a great way to improve the conditions in your neighborhood or community.
More importantly, it is more pleasing to Lord Krishna!
ISKCON Janmashtami Donation Campaign
Donate 1,000 Meals
₹ 20,000
Donate 2,500 Meals
₹ 50,000
Donate 5,000 Meals
₹ 1,00,000
SCAN To pay from phonepe, paytm, gpay and any upi app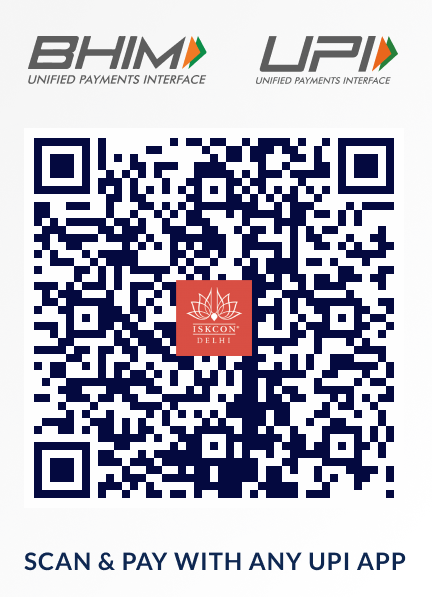 Direct Pay to Bank account using NEFT/RTGS/IMPS
Account Number: 2223330008648593
Beneficiary Name: ISKCON Delhi
IFSC: RATN0VAAPIS
———————————
UPI Address:
rpy.iskcondelhionlinepay@icici