Food Donation on Auspicious Ekadashi
During this pandemic, many people cannot earn even one-time food. So please help us to get them fed in this distress condition.
Ekadashi Donation
दातव्यमिति यद्दानं दीयतेऽनुपकारिणे |
देशे काले च पात्रे च तद्दानं सात्त्विकं स्मृतम् || BG 17.20||
dātavyam iti yad dānaṁ dīyate 'nupakāriṇe |
deśhe kāle cha pātre cha tad dānaṁ sāttvikaṁ smṛitam ||Bhagavad Gita: Chapter 17, Verse 20||
Your smallest act of Charity can make a difference and bring smiles to their faces.
donate and claim 80g to save tax
All Donations paid within India are Tax Exempted under the 80G Section of Income Tax Department, Govt. of India.
AVAIL 80G BENEFITS ON THE DONATIONS MADE TO ISKCON AS PER INCOME TAX RULE
Tax Exemption Certificate Ref. No.: आ. नि. (छू.) मु. न./80-जी/1667/2007/2008-2009 Validity extended perpetually vide CBDT Circular No. 7/2010 dated 27/10/2010
Donate 500 Meals
₹ 10,001
SCAN & PAY with any UPI App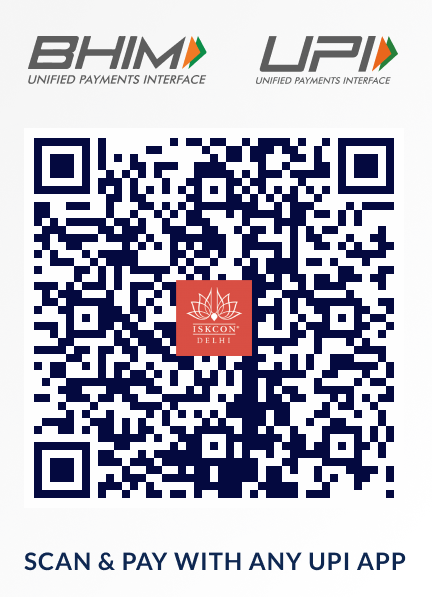 UPI ID:
rpy.iskconDelhiDonations@icici
Direct Bank NEFT/RTGS/IMPS
A/C NO.: 2223330044191637
NAME: ISKCON DELHI
IFSC: RATN0VAAPIS
Meaning of above Kshloka:
Charity is to give to a deserving person because it is the right way to give charity.
This kind of Charity that you made out as the sense of giving, the one who donates freely and happily gets more benefits and happiness.
This kind of charity must be practice out of a sense of responsibility because you feel right after giving up some things.
(बदले में कुछ भी उम्मीद किए बिना या प्राप्तकर्ताओं से किसी भी इनाम की उम्मीद किए बिना योग्य व्यक्ति को सही समय पर दान देना सात्विक दान कहलाता है।)