Gyaan Daan is a Maha Daan
The order of giving is the final form of achieving the love of the divine. Kindness and humanity go a long way in guaranteeing religious well-being; kind words and movements, when spoken or made without any hope of return, bring true joy and spiritual peace.
~Lets donate Bhagavatam and spread the Gyaan~
Srimad Bhagavatam is an epic thoughtful,
 and literary classic and also known as Srimad Bhagavatam Maha Purana or the Bhagavatam.
The timeless intelligence of India is expressed in the Vedas and Sanskrit text that touches upon all fields of human knowledge and provides the illuminating answer for your every question.
~Concern everything from the world of the self to the creation of the universe~
Any Amount of your Choice
Fundamentally protected through the vocal culture, the Vedas were the first put into writing by Srila Vyasadeva, the "literary manifestation of God." It is also known as "the grown fruit of the tree of the Vedic literature."
SCAN & PAY with any UPI App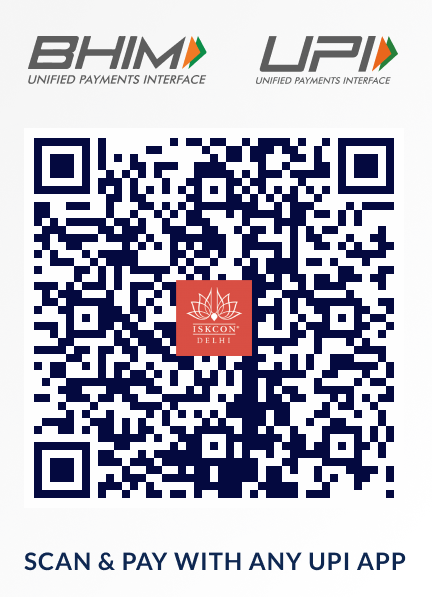 UPI ID:
rpy.iskconDelhiDonations@icici
Direct Bank NEFT/RTGS/IMPS
A/C NO.: 2223330044191637
NAME: ISKCON DELHI
IFSC: RATN0VAAPIS
Bhagavatam the authentic literature
Srimad Bhagavatam is the most complete and authentic part of Vedic knowledge.
This work is the product of his divine grace's cultured and religious effort, A.C Bhaktivedanta Swami Prabhupada, the world's most respected teacher of Indian religious and philosophical thoughts.
Srila Prabhupada urges devotees to act on this writing in a 1977 letter. "I want every honest person to have a robust set of Bhagavatam and Chaitanya Charitamrita in their home" and the devotees follow as it is instructed by Guru.
~Come forward and donate the Bhagavatam Maha Granth and seek the blessings from Krishna and help people changing their thoughts~